REEFER MADNESS ERA

MOTION PICTURES

THE FILM INDUSTRY AND THE COMING OF
THE ANTI-MEDICAL MARIHUANA LAWS
---

A WEB SITE DEVOTED TO MOTION PICTURES
AND THEIR ROLE IN THE REEFER MADNESS CAMPAIGN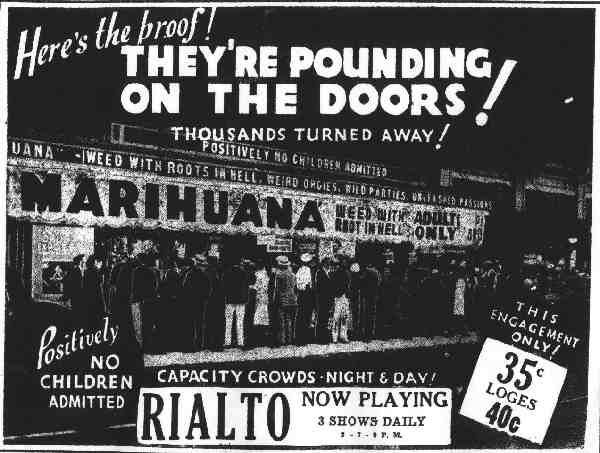 HUMBOLDT STANDARD - (Eureka Ca - July 20, 1936 - Pg. 9 )
REEFER MADNESS THE MOVIE


Documenting:
- The Dwain Esper / Harry Anslinger connection
- Harry Anslinger involved in the films creation
- The name of that Mysterious Church Group behind the movie
- The date(s) Reefer Madness was actually made in
- Why the movie was not censored . . . more . . .
---
REMEMBER WHEN . . .
Imagine a time when there was No Internet, No video Games, No Cable TV, or for that matter no Television period. A time when AM Radio (in its infancy back then), along with the land line telephone, was the pinnacle of high tech.

Obviously people relied on other sources of information back then, with books, magazines, playing a much greater role back then. But so did another media what was just coming into it's own – the motion picture industry. For the price of a quarter one was entitled to see two motion pictures, a cartoon and a news-reel (which before the coming of television enabled viewers to actually see and witness actual news events. Thus it is a safe presumption to make that those who were in charge of orchestrating the Reefer Madness campaign, would be very interested in controlling exactly what was, or was not viewed by the public in the various movie houses. The following provides a good example:







MARIHUANA FILM SLATED FOR RUN HERE

"Eureka (California) theatregoers were promised an expose of what happens at "marihuana parties" when William Mason, manager of the Rialto Theatre, announced today that the much discussed picture "Marihuana" will open tomorrow at the local showhouse for a three day run.

"The picture will be screened at the Rialto July 21, 22, and 23. Special added attractions to the program will be a short, "March of Crime in 1936," and an educational lecture "Crime and Sex Fools" by Professor Francis Freedman, noted criminologist and student of psychology.

"The story of a lovely girl made hard and brittle by a puff of smoke, wild parties and unleashed passions, is brought before the public in this picture. The depths reached by once respectable men and women under the influence of marihuana show the new sorrows and miseries that can be brought to the American youth. In cooperation with the federal and state governments, this motion picture was made to show the evils of this particularly vicious drug.

"Daring exposures like this picture are not recommended for children; thus, no children's tickets will be sold for either matinee or evening showings during its run in Eureka. "



---
<!- ============================================== -->




<!- ============================================== -->




<!- ============================================== -->




<!- ============================================== -->




<!- ============================================== -->




<!- ============================================== --> <!- ============================================== -->




<!- ============================================== -->


---

WANT TO KNOW MORE:
=====================
Due to space / download time considerations, only selected materials are displayed. If you would like to obtain more information, feel free to contact the museum. All our material is available (at cost) on CD-Rom format. Please contact: antique_andy@catholic.org
---
---