THE REEFER MADNESS BOOK
Chapter 3
Old Time Radio Programs
Chapter 3.3
REEFER MADNESS MUSIC MAGAZINES: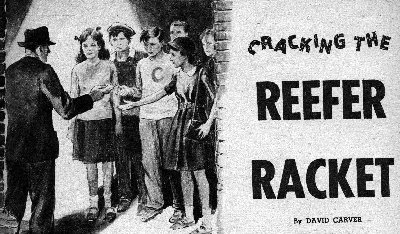 REEFER MADNESS ERA - MUSIC MAGAZINES
Much has been said of Harry Anslingers dislike for Jazz (negro) music. Which is sort of odd when you come to think of it as Anslinger himself used his own musical skills [he worked as a piano player in a silent move theater], to help pay his way through college. Or it could have been that he just didn't like black people, period, as can be seen from this article in the Afro-American Newspaper: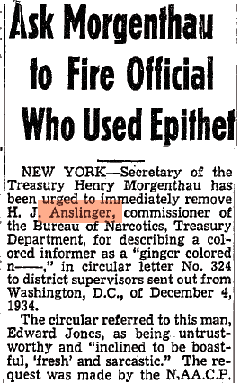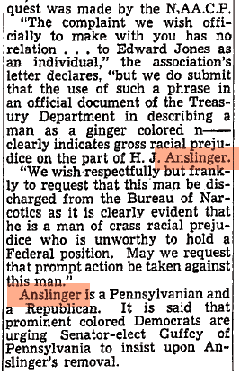 The Afro-American Newspaper - Dec 29, 1934 p12


But whatever, it is a well known fact that he just didn't like Jazz music period. Thus one could expect the Reefer Madness conspirators to have targeted music publications with a vengence specifically for propaganda purposes. But here their little tricks didn't work; the music magazine publishers simply knew the musicians too well, and were not about to stab their friends in the back. Thus pure Reefer Madness articles were few and far between. But unfortunately [as can be seen from the following] the conspirators were able to slip-in some golden wonders.


---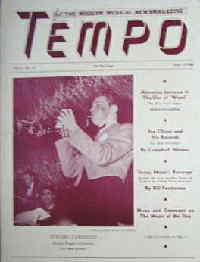 TEMPO MAGAZINE:

"Tempo" Magazine - "The Modern Musical Newsmagazine" Published monthly in Los Angeles

June 1938 - "True Facts about Marijuana" result in crime and degeneracy." -
[MORE]

<!-===================================================== -->
---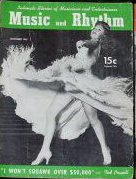 MUSIC & RHYTHM MAGAZINE:

Music and Rhythm Magazine Magazine Type: Entertainment (Music)

Oct 1941 pg. 40 "Was Marihuana responsible for Bus Etri's Death?" - By Robert Crandall - Music and Rhythm was a rival to the US frontrunner Down Beat. -
[MORE]

<!-===================================================== -->
---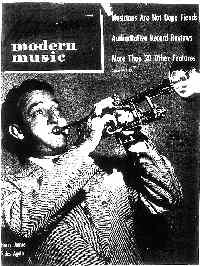 METRONOME MAGAZINE:

Metronome Magazine

Aug 1947 "Musicians Are Not Dope Fiends" by Barry Ulanov; -
[MORE]

<!-===================================================== -->
---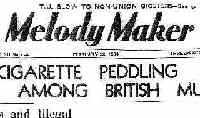 MELODY MAKER:

MELODY MAKER (British Magazine)

Feb 22, 1936 - "Dope Cigarette Peddling among British Musicians" -
[MORE]

<!-===================================================== -->
---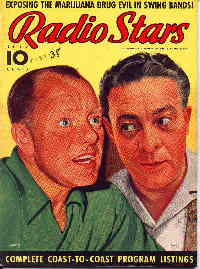 RADIO STARS MAGAZINE

RADIO STARS MAGAZINE
Publisher: Dell Publishing Co. Inc.

July 8, 1938 pg 8 "Exposing the marihuana Drug Evil in Swing bands" - By Jack Hanley. -
[MORE]

<!-===================================================== -->
---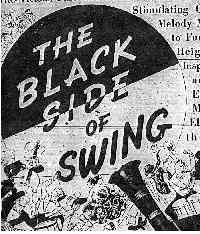 San Francisco Chronicle (Newspaper)

San Francisco Chronicle (Newspaper)

June 19, 1938 "The Black Side of Swing" By George D. Lottman [Magazine Section]- "This Vicious Part that Potent Marihuana Plays in Stimulating Certain Melody makers to fantastic heights of inspirations and the efforts made in eliminate the evil" -
[MORE]

<!-===================================================== -->
---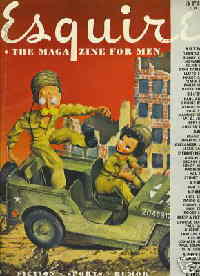 ESQUIRE MAGAZINE [Non-Music Magazine]

ESQUIRE MAGAZINE

April 1945 "The Rhythm Section - Remarking on the "tea-smoking" of some jazz players, and debating the values of singing for your supper versus pure art." By Leonard Feather & Paul Miller -
[MORE]

<!-===================================================== -->
---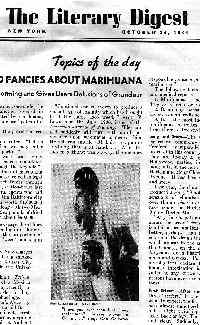 LITERARY DIGEST [Non-Music Magazine]

LITERARY DIGEST

Oct 24, 1936 p7 "Facts and Fancies About Marihuana" -
[MORE]

<!-===================================================== -->
---

[WANTED - MUSEUM DOES NOT HAVE A COPY]

THE KEYNOTE"
Monthly publication of the Detroit Federation of musicians
Editorial - Jan/Feb 1941

To the best of our knowledge, there are NO KNOWN COPIES of this article still in existence. The following is all that we know about this article and comes from the book, "Reefer Madness" By Ratso Solman.


"But by 1941 the link between marijuana and swing music, propagated by a lurid press, was strong enough to evoke a response from The Keynote, the monthly publication of the Detroit Federation of Musicians. In a front-page editorial in the January-February 1941 issue, the president and secretary treasurer of the union went on record with a promise to weed out any musicians found guilty of using the weed.

MARIJUANA ---- A SCOURGE
Marijuana-weed-grass---tea---reefers---call it anything you like---is classed by law and by effect in the same category as narcotics. For some reason or other-and no matter how it hurts, let's face it----the comparatively few musicians who are addicted to its use have gained for the entire music profession a reputation among law enforcement officers, and to some extent among the general public, that is most unsavory, and every day bring disgrace and worse to the good reputation of the great majority who do not use it. Marijuana causes far more than mere moral degeneration-it breaks down the mentality of its slaves. Some of the so-called "jazz hounds" who think that their talents show off the best when "high" should take a trip to Eloise Hospital and see the wrecked human beings there, jabbering idiots who likewise used to think it was fun to be taken out of the world of reality into a false sense of super-being. Now they can't think at all! The responsible heads of your organization are determined to do their utmost to stamp out this most vicious practice-Detroit Musicians are no worse than those of other cities, and the problem is one which must be faced by every local union and by our National organization. This condition is so serious that your Board of Directors has taken drastic action to curb it by adopting the following regulation: Any member found guilty of the use of Marijuana, or on proof that a member uses same, such member shall immediately be expelled from membership."
NEWSPAPER ARTICLES OF INTEREST ON THE SUBJECT:

WASHINGTON POST
July 1, 1928 p3 - "New Drug, Not Illegal, claiming many addicts" - Federation of Musicians at Chicago Reports Victims in its Membership.

CHICAGO TRIBUNE:
July 1, 1928 p12 "New Giggle Drug Puts Discord in City Orchestras" article reported that marihuana addiction was common among local musicians. Marihuana is an old drug but was generally introduced into the country only a few years ago by the Mexicans. It is like cocaine. In the long run, it bends and cripples its victims. A sort of creeping paralysis results from long use.

<!-===================================================== -->
---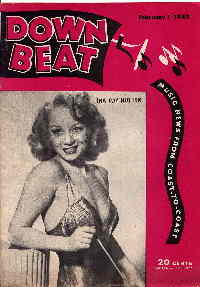 DOWN BEAT MAGAZINE


March 1, 1940 - "Negro trumpeter Judged insane, A raving maniac and hopelessly insane long and continued use of marihuana caused his breakdown".
Jan. 15, 1943 "Tea Scandal Stirs Musicdom"
Jan. 15, 1943 p10 Editorial - TEA AND TRUMPETS ARE BAD MIXTURE! - Mike Levin editor
Feb. 1, 1943 "Marijuana Use by Musicians"- This great issue features all the music news one could want including a report on investigations by narcotics bureaus on US Military musicians and their use of "tea".
May 1, 1943 p1 Gene Krupa Takes Plea
May 15, 1943 p1 Prison Terms in Weed Case - 1 star not worth reading
May 15, 1943 p2 Krupa Denies Plea of Guilt, Set for Trial -
June 1, 1943 Fine and Jail For Gene Krupa
Aug. 1, 1943 "Gene Krupa Bribery Pot Bust " - This scarcer wartime issue features a Nan Wynn cover & alot of Big Band Celebrity news including the lead story in this issue- Gene Krupa's Bribery & marijuana arrest.
Oct. 15, 1943 Weed Arrests On the Coast - short, not worth reading
Mar. 15, 1944 p1 Musicians Used for Weed Medical Test - By Frank Stacy
Sep 1, 1944 Tests Show Tea-Kick Proves A Poor Lick - by Johnny Sippel
Dec. 15, 1944- Leader Seized On Weed Charge - Not worth reading
Feb 1, 1945 Light Up Gates, Report Finds 'Tea' A Good Kick

The Union Signal -(National woman's Christian temperance union):

Jan 15, 1943 p1 - "Tea Scandal Stirs Musicdom" - Reprint from Down Beat Magazine. -
[MORE]
<!-===================================================== -->


---

WANT TO KNOW MORE:
=====================
Due to space / download time considerations, only selected materials are displayed. If you would like to obtain more information, feel free to contact the museum. All our material is available (at cost) on CD-Rom format. Please contact: antique_andy@catholic.org


---
---