THE REEFER MADNESS BOOK
Chapter 3
Old Time Radio Programs
CHAPTER 3.8
Dr. FU MANCHU
AND
Medical Marihuana as a Drug of Interrogation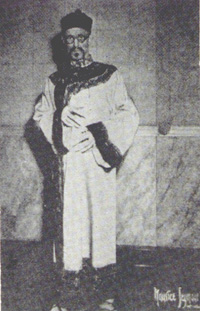 To understand the full implication of Fu Manchu and his role in the Reefer Madness campaign, one must have an understanding of the times. According to the D.E.A. (then known as the Bureau of Narcotics):
"Marijuana loosens every inhibition---every power of mental and moral control" . . . [and thus] its victims become highly susceptible to suggestion."


This belief (thanks in no small part to the campaign) was so great that according to now declassified secret documents, Medical Marihuana was even actually used during the Second World War by interrogators as a form of truth serum -- part of that document reads as follows:
" . . .the drug [Medical Marihuana] does produce a psychological state of relaxation, talkativeness and irresponsibility which might be extremely useful to a skilled interrogator. As with alcohol, a variety of reactions may be anticipated from subject to subject. Although a belligerent or crying "jag" has not been observed experimentally, it would not be unreasonable to expect such a reaction . . . In the various experiments which have been conducted, an attempt has been made to approximate a real interrogation situation. On several occasions, considerable information has been revealed which probably would not have been divulged without use of the drug." -- Documents, Stanford University; George White Collection
Thus the use of medical marihuana (a.k.a. Hashish, Cannabis Indica etc.), by the sinister Dr. Fu Manchu to extract secret information from his victims was quite in keeping with those times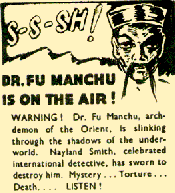 THE SHADOW OF FU MANCHU
"Andaman Second" First broadcast on June 9, 1939 Program #15. This episode has also been titled "Hashish Switched With Sleeping Pills" and "Sleeping Pills". A radio dramatization based on the Fu Manchu series of books written by Sax Rohmer. In this episode the evil Dr. Fu Manchu has managed to secretly exchange West's sleeping pills with others made out of Hashish (a.k.a. medical marihuana). And of course while under the influence of medical marihuana, West becomes an easy target and soon reveals to location of secret documents etc. "The shadow of Fu Manchu" series has well over 100 episodes in all.

THE SHADOW OF FU MANCHU - [Not Recommended ]
Episode #106 of a radio dramatization based on the Fu Manchu series of books written by Sax Rohmer. "Cannabis Indica" the scientific name for Medical Marihuana, is only mentioned once in this episode and then only as one of many drugs used in the past by the evil sinister Dr. Fu Manchu.

THE DR. FU MANCHU - [WANTED]
"The House of Hashish" June 13, 1937 - A British production. This radio episode is taken (mostly) from the book "The hand of Fu Manchu" Note that this program should not be confused with one of the "Shadow of Fu Manchu" episodes which were produced in 1939.



---

WANT TO KNOW MORE:
=====================
Due to space / download time considerations, only selected materials are displayed. If you would like to obtain more information, feel free to contact the museum. All our material is available (at cost) on CD-Rom format. Please contact: antique_andy@catholic.org


---
---